Congratulations to Guangdong Lijia for winning the "Contract-honoring and Credit-keeping" enterprise in Guangdong Province in 2018
- 2019-06-13 -
Guangdong Lijia Industrial Co., Ltd. was awarded the title of "Contract-honoring and Credit-respecting Enterprise" in Guangdong Province in 2018 by the preliminary examination of the branch office, the review and verification by the Municipal Bureau, and the assessment of various departments!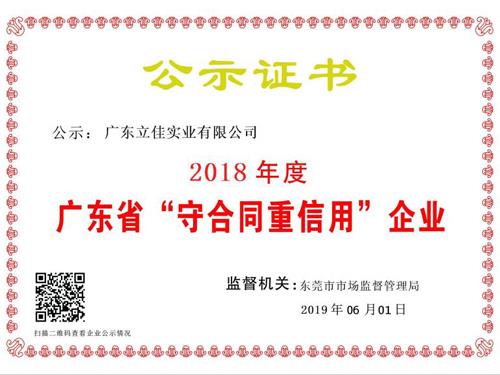 Under the leadership of the provincial and municipal market supervision bureaus, the voluntary application of enterprises, the preliminary review of sub-bureaus, the review and verification of the municipal bureau, and the consultation of more than 20 functional departments such as customs, taxation, and courts ensured the publicity of the public. Excellent enterprises that meet the requirements, and through this publicity campaign, to further improve the sense of integrity of street enterprises and promote the construction of corporate credit system.
Guangdong Lijia Industrial Co., Ltd. will also improve its credit system construction, abide by market laws and ethics, establish a model of honest enterprise, and establish a good business philosophy: "Technology innovation leads the industry trend, advocating quality, brand image, honest and trustworthy Implementing the market share and satisfying customer needs after unpaid sales.