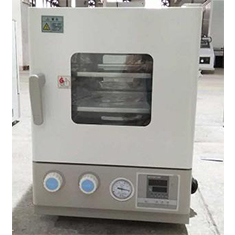 Vacuum drying oven
Product Details

Vacuum drying ovens are widely used in research fields such as biochemistry, chemical pharmacy, medical and health, agricultural research, environmental protection, etc., for powder drying, baking and disinfection and sterilization of various glass containers. It is especially suitable for fast and efficient drying of heat sensitive, easily decomposable, oxidizable substances and complex ingredients.
The vacuum drying oven is specially designed for drying heat sensitive, easily decomposable and oxidizable substances. It can keep the working chamber with a certain degree of vacuum during operation, and can be filled with inert gas inside, especially for some messy items. Quick drying, using intelligent digital temperature regulator for temperature setting, display and control. The vacuum oven can flush the inside of the inert gas, especially for some messy items.
The vacuum drying oven is an older drying equipment, and the heating plate in the box is divided into several layers. Hot water or low-pressure steam is used as a heating medium in the heating plate, and the tray on which the medicine to be dried is placed is placed on the heating plate, the box door is closed, and the vacuum is pumped in the box. The heating plate heats the medicine to a specified temperature during the circulation of the heating medium, and the water starts to evaporate and is gradually withdrawn by vacuuming. The device is easy to control, can condense and recover the evaporated solvent, and the drug is not easily contaminated during the drying process, and can be used for drying the drug, packaging sterilization and heat treatment.

1. Adopting streamline arc design, the outer shell is made of cold-rolled steel plate, and the surface is electrostatically sprayed;
2. The temperature control system of the machine adopts microcomputer single-chip technology, temperature control, timing, over temperature alarm;
3. Displayed as dual-screen high-brightness digital tube display, accurate and intuitive indication value, superior performance, touch button setting adjustment parameters;
4. The temperature control sensor is a capacitive imported component;
5, using imported motor and fan blades; with timing and timing functions;
6, the inner liner is made of stainless steel; semi-circular corners are easy to clean;
7. The door of the cabinet is completely elastic and can be adjusted by the user. The integrally formed silicone rubber door seal ring ensures high vacuum inside the box;
8. The machine studio is a rectangular parallelepiped structure, which maximizes the effective volume. The door is made of tempered and bulletproof double-glazed doors, so that the observation studio culture items can be seen at a glance.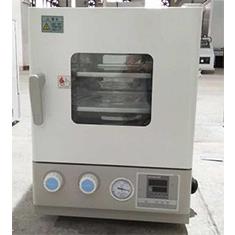 Inquiry