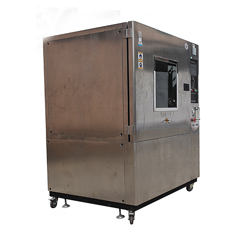 Strong flushing device
Product Details
Rain test chamber: strong flushing device IPX56

The waterproof test chamber is suitable for checking electrical products, enclosures and seals to ensure the outstanding function of equipment and components in a rainy environment. This product uses scientific planning, which makes the equipment realistically simulate dripping, watering, splashing, spraying and other environments. Entering the comprehensive control system and the selection of frequency conversion skills, the rotating viewpoint of the rainfall sample rack, the swing viewpoint of the water swing swing and the swinging frequency of the water spray can be actively adjusted.

1, 500L inner box scale: length 800mm × width 800mm × height 800mm
1000L outer box scale: length 1000mm × width 1000mm × height 1000mm
2, the device has two water jet heads, one IP6 nozzle and one IP5 nozzle.
3. Inner diameter of nozzle: φ6.3mm, IP5 (grade), φ12.5mm, IP6 (grade)
4, water spray pressure: 80-150kpa (adjusted by flow)
5, water spray flow: IP5 (grade) 12.5 ± 0.625 (L / min), IP6 (grade) 100 ± 5 (L / min)
6, turntable: φ500MM touch screen can display the turntable speed
7. Spraying time: 3, 10, 30, 9999min (adjustable)
8, running time control: 1M ~ 9999min (adjustable)
9. Water circulation system to ensure water source recycling
10, water pressure gauge, can display the water pressure
11, control system: touch screen control system.

1, nozzle: 304 stainless steel tube
2, nozzle: SUS304 stainless steel plate
3. Countertop: SUS304 stainless steel
4. The IP56 control system operates together, and the IP level can be selected for testing.
5, power supply: three-phase five-wire 380V power: 3.5KW

GB4208-2008, GB2423.38, IPX5, IPX6;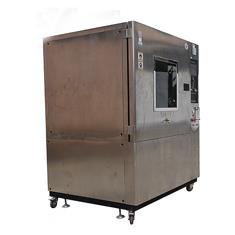 Inquiry