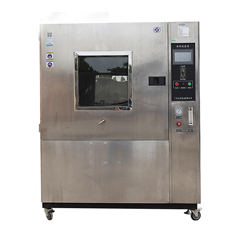 Pendulum shower box
Product Details
  Rain test box: swing tube rain box IPX34

This product is suitable for checking electrical products, enclosures and seals to ensure good performance of equipment and components in rainy environments. This product uses scientific design, which makes the device realistically simulate dripping, watering, splashing, spraying and other environments. Entering the comprehensive control system and the selection of frequency conversion technology, the rotating viewpoint of the rainfall sample rack, the shaking viewpoint of the water swing swing and the shaking frequency of the water spray can be actively adjusted.

Compliance: IP3.4 specification
1. Inner box scale (mm): 800×800×800 (depth×width×height) (volume: 500L)
Inner box size (mm): 1000 × 1000 × 1000 (deep × width × height) (volume: 1000L)
2, test bench speed (rpm): 1~5 adjustable
3, spray ring radius (mm): 400
4, spray pipe shaking view range: 45 °, 90 °, 180 ° (approximate)
5. Water spray hole diameter (mm): φ0.4
6, spray aperture distance (mm): 50
7. Flow rate of each spray hole: 0.07 L/min + 5%
8, water spray pressure (Kpa): 80-150
9, swing tube swing: zui large ± 180 °
10, experimental time: 1-999,999min (can be set)
11, the box is all stainless steel or dusting, visible tempered glass window.
12, with a moderate round turntable (for sample use) adjustable speed
13, control system: touch screen control system.
14, the power supply 220V 50Hz

1. The inner tank is made of stainless steel 304
2, outer box stainless steel 304 or powder paint
3, sample table configuration round turntable, adjustable speed

1, power overload, short circuit maintenance
2, grounding maintenance
3, lack of water maintenance
4, alarm message prompt

GB2423, 38-90, GB4706.32-2004 IEC-5129
Inquiry